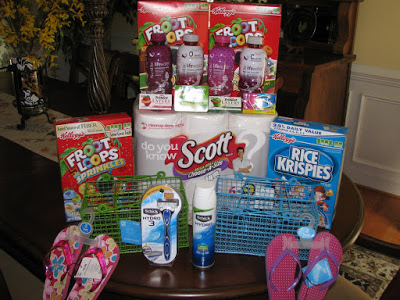 So, as I said before, I was not about to haul my kids around the stores all summer while I flipped furiously through my stack of coupons. I took a break from my coupon addiction. It was hard, but I did it. All summer. We had a blast this summer. I have to say though, that it almost killed me to pay retail prices for stuff. (I did use my Kohls and Children's Place Q's for back to school clothes!) Needless to say, I was ready to get back in the game. After getting their cute little butts off to school last week, I raced off to CVS while the gettin' was good. So, here's my haul for this week. It wasn't a record deal week, but I did pretty darn good.
(1) 6-pack of Scott paper towels
(4) boxes of Kellogg's cereal
(4) Sobe drinks
(4) packs of gum
(1) Schick Hydro razor
(1) Schick shaving cream
(2) little pairs of flip-flops for my baby girl (summer clearance)
(2) utensil caddies (These were on summer clearance, and I thought would be really cute for summer parties, holding craft supplies, or even to put items in for gifting)
Shelf price: $67.93
Total after coupons: $1.44 !!! (Actually, I got it all for free, b/c I had a giftcard I got for filling a prescription)
And, I have $5 in Extra Care Bucks (ECBs) for next week!
How did I do it?
First transaction:
Utensil caddy 1.25
Utensil caddy 1.25
Flip flops .75
Flip flops .75
Razor 8.97
Shaving cream 4.29
Gum .99
Gum .99
Gum .99
Gum .99
Water 1.59 (BOGO)
Water free
Water 1.59 (BOGO)
Water free
Coupons used:
$4 off CVS coupon here
Free shave gel when you puchase razor (found on razor package)
$5 off Shick razor (SS 8/8)
(2) Sobe BOGO coupons here
Stride gum BOGO coupon (ss 5/16)
$7 ECB (Extracare buck from last week)
Total after coupons: 80 cents
Get back $4.99 in ECBs
Second transaction:
4 boxes of Kelloggs cereal (4 for $10)
1 Scott mega pack paper towels $5.49
Coupons used:
(2) $1.50 Kelloggs coupons here
$1.00 Scott coupon (SS 7.25)
$3 off $10 CVS Grocery Coupon that I got out of the red machine at CVS
$8 ECB from last week
Total after coupons: 64 cents
For more on playing the coupon game, go to http://www.southernsavers.com/