In honor of the royal wedding, I thought I'd share a recipe with you. My daughter and I plan to get up early tomorrow to watch the footage on T.V. We decided to make a special breakfast to celebrate the event. We plan to have these yummy scones along with a spot of tea, all while wearing the biggest hats we can find! Wanna make some scones of your own? Here's what you'll need: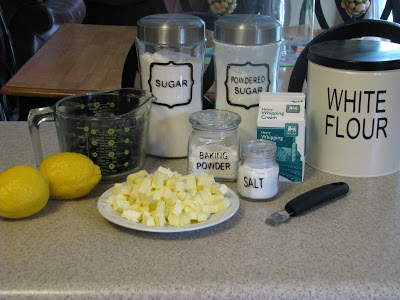 4 cups all-purpose flour
2 tbsp baking powder
1 tsp salt
4 tbsp sugar
1 1/2 sticks unsalted butter, cold & cut in chunks
2 cups heavy cream
2 cups fresh blueberries
1 cup freshly squeezed lemon juice
4 cups confectioner's sugar, sifted
zest of 2 lemons
small amount of cornstarch (not pictured)
SCONES
Preheat oven to 400 degrees F. Place the flour, baking powder, salt, and sugar together in a large mixing bowl. Using a fork, mash 10 tbsp of the butter into the flour mixture until it looks like coarse crumbs. Make a well in the center, and pour in the cream. Fold everything together, taking care not to overwork the dough. Gently fold the blueberries into the mixture.
Divide the dough in half. Press half out onto a lightly floured surface into a rectangular shape about 12×3 inches and 1 1/4 inches thick. Cut the rectangle in 1/2, then cut the pieces in 1/2 again, giving you 4 (3-inch) square. Cut the squares in 1/2 on a rectangle to make a triangle shape. Repeat all this with the other half of your original dough.
Place the scones on an ungreased cookie sheet. Brush the tops with a small amount of the heavy cream. Bake for 15-20 minutes until lightly browned. Let cool, then apply the glaze.
LEMON GLAZE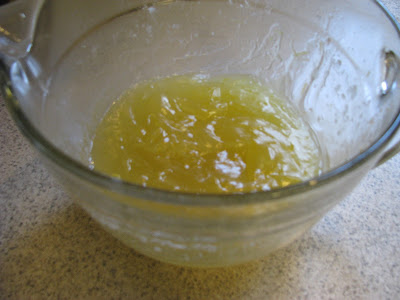 In a small saucepan, mix the lemon juice and confectioner's sugar together until sugar dissolves. Add the lemon zest and remaining 2 tbsp of the butter.
(I highly recommend a juicer for this recipe. I have had this one forever, and it really comes in handy.)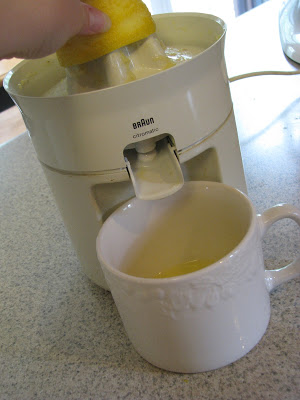 Heat slowly, stirring frequently. Once the mixture has started to incorporate, turn the heat up to high. Gradually add small amounts of cornstarch (a tsp or so at a time) and continue stirring. The mixture will start to become glossy and thicken. As soon as it becomes the yummy glazy consistency you want, turn your heat off, and pour the glaze into a different bowl, so it won't burn. Drizzle over your scones and enjoy!