I haven't posted any couponing trips in a while. This was a pretty good week, so I thought I'd share my haul with you. These are my coupon purchases shopping at Martin's, CVS, and Kroger so far this week: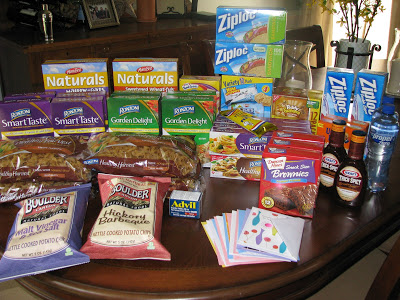 15 Hallmark greeting cards
2 boxes organic cereal
16 boxes/bags Ronzoni pasta
1 package Mahatma rice
2 bags organic chips
3 boxes Duncan Hines brownie mix
2 boxes Uncle Ben's rice
2 bottles Kraft BBQ sauce
2 bottles Propel Fitness water
1 bottle Advil
2 boxes Ziploc freezer bags
2 boxes Ziploc sandwich bags
1 mulipack box Teddy Grahams
1 multipack box Keebler snacks
1 multipack box Ritz cracker snacks
Retail price $101.02
Out of pocket $10.81
I'm not gonna break this down, because it's much easier to check out the deals for yourself over at
Southern Savers
. Just find your store, click on it, and all the deals pop up. For the record, I only buy one Sunday paper. I've considered buying more, but if there is a really good coupon out there, you can usually order it off of Ebay or other couponing sites.
I've been watching Coupon Hoarders Extreme Couponing, and I am in disbelief at the amount of food these people haul into their homes that they cannot possibly use up before the expiration date. Not to mention the amount of time it takes to pull off something like that. I prefer to hit the good deals when I see 'em, and usually end up spending the same amount of money as eveyone else when it's all said and done. I probably just have a little more to show for it. Sadly, these folks are ruining it for everyone else. Just today, Kroger told me they are no longer going to allow stacking of manufacturer's coupons with e-coupons, which they have always let you do. I wouldn't be surprised if it had something to do with the show.
Oh well, it's an entertaining program if nothing else! Have a great week and happy couponing!