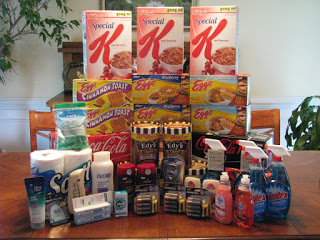 Let me begin by providing a little insight into the "world of couponing." There are trashy couponers, and there are classy couponers. My belief is that coupons are not just for frumpy housewives. I have a few tips for people considering starting this.
1. It has to be fun. I enjoy this. Call it a sickness. Call it whatever you will, but if it was work for me, I would not do it!
2. It can't take up too much time. I have it down to a science, and tend to speed shop, if you will. After all, life is too short!
3. Be a nice shopper. Don't throw a hissy fit at the register if the cashier won't take your coupon. Let it go, seriously! Also, if someone behind you has just a few items and you have a gargantuan stack of coupons, be polite and let them go ahead of you.
4. Don't make the rest of us look bad. If you go to the store looking like a frumpy housewife, you will be treated like a frumpy housewife. Whoever said lookin' cute won't get you far didn't know what they were talking about!
5. I want to caution you that buying only items you find coupons for will provide you with a pantry full of processed foods. Coupons are great for toiletry items and paper goods, though. Be sure you are still buying plenty of fresh fruits and vegetables and high quality meat for your family. (Remember, this is not my entire list of grocery purchases, just the coupon deals!) We go through a lot of cereal and frozen breakfast foods, so I never pass those up. I allow the kids to have sodas from time to time, but they are always nice to have around for company too. Sorry, but I had to add this; guess it's the nurse in me 🙂
That being said, let me also add that I do not do this all the time. I have been on a roll the past few weeks, but sometimes I go weeks without using a coupon! I don't think I used a single one the entire month of April, as I was just too busy! I am grateful for the good deals I've been finding lately, because my couponing is about to be put on the back burner for the summer. If you think for one second, I'm dragging the kids around the store while I do this, you must be nuts! I'll do what the professional couponers call "cherry-picking." That's where you just shop for the "too good to pass up/or totally free" stuff.
There, I've said my peace. So here is my haul for this week:
CVS
4 12-packs coca-cola products
1 Gillette Fusion power razor
4 Windex spray bottles
1 4-pack Scott toilet paper
4 boxes Special K cereal
Shelf price: $55 and some change
Amount spent: $11.70 (and have $5 ECBs for next week)
Rite Aid (You won't believe this!)
1 pack Oral B floss picks
2 bottles Dawn dish detergent
3 8-packs Duracell AA batteries (we all know how fast kids go through these!)
1 Clean & Clear facial cleanser
2 Old Spice deodorant
2 Old Spice body wash
1 Reach dental floss
1 Blink eye drops
Shelf price: $75.50
Amount spent: $3.61 Yes, really! And I have $3 credit to use next time!
Target:
5 Edy's ice cream (lots of ice cream cones this summer:)
6 Kellogg's frozen waffles (sadly, these will go fast!)
1 Olay body wash
1 Ivory body wash
2 Benadryl anti-itch sticks
Shelf price: $47.00
Amount paid: $11.55
Total before coupons: $177.50
Total amount spent: $26.86
Total credit left for next trip: $8.00
I hope everyone's having a great week!