I have been dying to try using my Cricut to etch glass. If you haven't heard of this, it is really super easy. Provocraft makes sheets of vinyl that can be used in place of cardstock on your cutting mat. I picked up these mugs and a few bags of candy and trail mix at the dollar store. The sunflower seeds were a recent coupon deal, so that worked out well. The clear cello bags, ribbon, vinyl, and etching cream all came from Michael's. I make my own shred for baskets and bags out of cardstock. I just choose the colors I want and run a few sheets through my shredder. We are giving these as coach's gifts and cub scout leader gifts this year. They were so fun to make, and each gift ended up only costing around $5. (I stuck a piece of cardstock down in the mug in the picture above so you could see the etching) Instructions are as follows: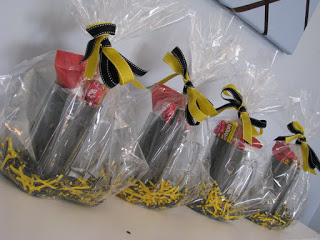 1. Design what you want to etch (using a cartridge or SCAL).
2. Cut it out on vinyl instead of cardstock.
3. Punch out the design.
4. Place the stencil on the object you want to etch.
5. Brush on some Armour Etch, being careful not to get any of the product on an area you don't want etched.
6. Allow the Armour Etch to set for about 15 minutes
7. Rinse off thoroughly with water.
8. Remove the stencil, then voila, you are done!