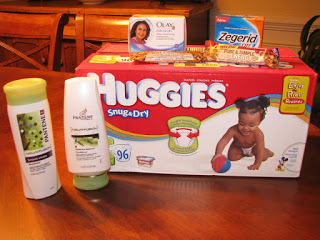 Like I said, I am not doing a lot of couponing now that the kiddos are out of school. It's just not worth the time and effort it takes. I'd rather be doing fun stuff with them while they are home. I did make it to one store this week, though. (I went at night after the hubby got home, so I didn't have to hear, "Oh no, Mom has her coupons with her!") CVS had some pretty good deals this week. As I stated in my previous post, I would not normally be buying diapers, but since they paid me to take them off their shelf, I couldn't pass them up! They are always greatly appreciated as baby gifts. I wanted to make a diaper cake for my sister's baby shower, so now I'll have plenty to do that and she can keep the rest. I basically made all the purchases I listed in my previous post, with one exception. Due to the fact that I play the coupon game so often, I do not need any more toothpaste for quite some time. So, I substituted an Olay product so I would have enough to complete the Olay rebate. According to my favorite source, Southern Savers, there are some super awesome deals next week at CVS (starting Sunday). I am bummed I will miss these, as we will be out of town. Go here to see Jenny's list for CVS and how to get $94.34 worth of stuff for $2.31 and have $10 ECBs left over, including a free Kodak Picture Movie DVD that would make a great grandparent birthday gift: CVS list. Jenny rocks! Have fun and happy couponing!
1 Pantene shampoo
1 Pantene conditioner
1 box Huggies diapers
1 Zegerid med
1 Olay facials
2 Power bars
Shelf price: $45
Amount spent: $7.99
Get back: Zegerid rebate $9.99
ECBs left for next week: $6.00
Total out of pocket $2.00 profit!!!