We just aren't going to be satisfied until we tear up the whole house I suppose. It started out with the Man Cave Reno. We had a little plumbing issue. It seems that the wonderful company who built our house did something a little unconventional. Did you detect the sarcasm there? I won't name the actual builder in my post, but I'll just say the name is a bird, and he is usually bald.
All was going as planned until we went to hook up the plumbing. We couldn't seem to find where the pipes led or where the shutoff valves were. The builder said they wouldn't have their own shutoff valves, that they would be under the house, capped off and all ready for hooking up. They had to be there, they insisted. But, they weren't.
Time to start knocking some holes in the walls. Where were they? They ended up being in the back of my son's closet, with their own shutoff valves! Luckily, we only cut holes in one other location before we discovered this. In doing so, we discovered something cool. We had a ton of space behind our pantry that was going unused! Why they didn't make a larger pantry in the first place I don't know.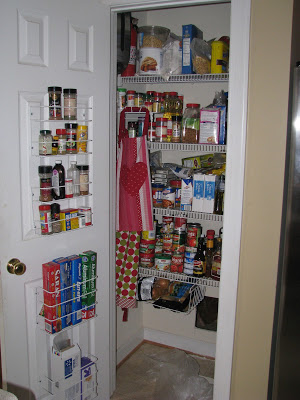 Here's the before shot. Note the lovely hole we cut in the back in our quest for pipage.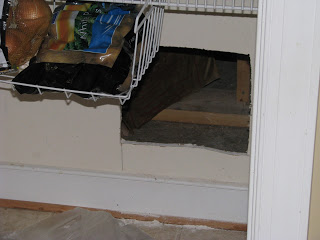 Now let's get her all cleaned out.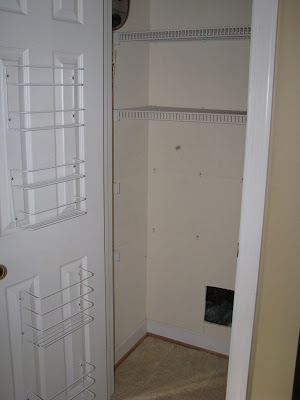 Where are we going to put everything? Remember my newly decorated dining room?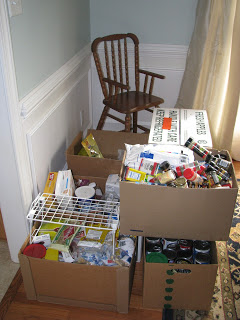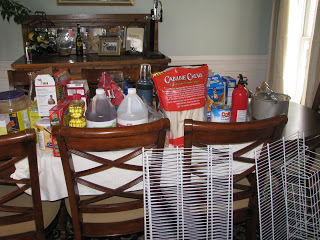 I'm not sure I'll make it through this reno still a happily married woman! By the way, meals can be donated at any time. Feel free to drop by at your convenience. We aren't picky eaters, LOL! I don't see a whole lot of cooking going on until this project is complete!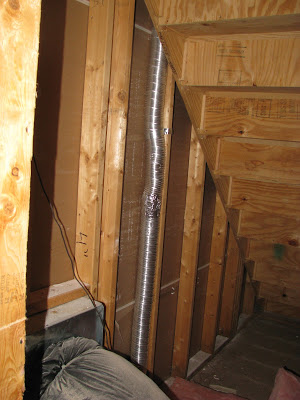 Can you believe all this wasted space back here? We plan to box out the duct, and put more shelving over it to the right. The existing shelving will get pushed back about 5 feet!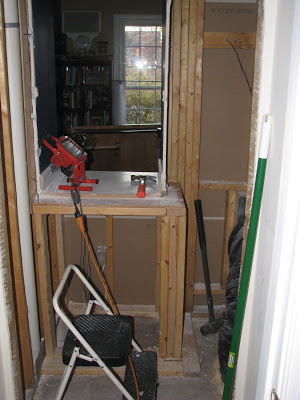 There is a niche in our office that is built into the back of this space. I have always thought it was silly and useless, so out it comes! More room in the pantry, yay!
I am super excited about the possibilities for this space. I have seen some awesome pantry makeovers out there in blogland. Check out a few of my faves: