When we first moved into our house six years ago, I had a little obsession with red walls. And I do mean obsession. Looking back I don't know what on Earth I was thinking. I was pregnant with my youngest, and I'd like to blame it on hormones. At my insistence, we painted our entire living area, breakfast nook, and kitchen red. Yeah, seriously. Like I said, what was I thinking? A couple of years later, I couldn't take it anymore, and we covered it in a nice, neutral Eddie Bauer Pecan. Except for the accent wall. I couldn't commit to giving up the red altogether. What can I say; I have decorating commitment issues. So, the wall surrounding the fireplace became the accent wall (Benjamin Moore Burnt Peanut Red) which since my draperies had red in them, seemed to coordinate well at the time.
This past week, I decided enough was enough. Time for a change.
Of course, I forgot to take "before" pictures, so I tried to dig up some pics that had some of my old decor in them.
Of course, my little kitchen helper is in this one! So, this is my kitchen table in it's previous white state. And the draperies in red.
And the horrible red wall that looked hot pink in the wrong light. Ugh. I have to say I did love these curtains. They were the first ones I ever made. But I was over them too. Six years is too long to have the same stuff around all the time.
So…
 
For these window treatments, I bought two panels and cut 'em all up. I had enough fabric for all the cafe curtains and two valances. That's five windows for $35.
I made the framed monogram using an old frame I already had and cut it out of cardstock with my Cricut. I scored this lamp at Goodwill for $6! I had to have it. It reminded me of this Pottery Barn lamp that's $99.
The new color scheme is so calming, it put her right to sleep!
Ok, here we have a Goodwill plate I spraypainted ($1), a silver pumpkin from Marshall's ($5, compared to P.B.'s $50), and some Fall subway art cut out of cardstock I already had with the Cricut.
I almost went out to buy new candles for these sconces to match the room. But then I got the idea to cover these candles I already had. A little burlap, ribbon, and a glue gun did the trick!
I found these fall frames at Kohl's on clearance for 6 bucks a piece. The silver candleholders used to be red, but I spraypainted them with Krylon metallic silver.
I picked up this little chotchkie at Goodwill and sprayed it with heirloom white. For the cloches, I found this stuff at Goodwill:
I glued 'em together with some gorilla glue and then added a fresh coat of heirloom white. I am so pleased with them. I found the two little birds at the Dollar Tree and set them in a little nest of Spanish moss.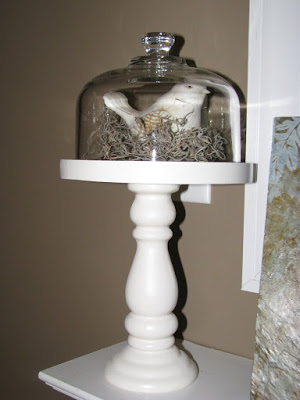 I thought about doing away with the accent wall. But at the last minute I decided to paint it Portabello by Sherwin Williams. A friend had this color in her house and loved it. I am so glad I did it. I just love it.
I just loved this plate. I painted it with Krylon's Bahama Sea.
I guess you could call the rug my only "splurge". I got it at Lowes for $125. A perfect match!
I can't even tell you how much more relaxing it is in here with the new color scheme. I am so happy to finally have a change. How often do you change your decor?
I'm linkin' up to:
and