So this week I'm on a roll with updating my daughter's room. My goal was to change it up, incorporating some no-cost projects using things I already had on hand. After all, why not use whatcha got, right? While trying to get her all organized for school, we sorted through her hairbows and got rid of any that were broken, frayed beyond repair, or ones that she never wore and were taking up space. While doing this, it occurred to me that I never got around to making a hairbow holder for her. Thankfully, she hasn't outgrown wanting to wear them. Usually, she just wants to wear her hair down, with nothing in it. But, right now she is growing her bangs out, and the agreement was that she has to have them out of her face. So, she has been wearing her bows alot more often, and clipping them over to the side.
I've seen some cute hairbow holders that have the child's name painted on canvas, and ribbons dangling from them to clips the bows onto. Since I lack any ability to paint freehand, I decided I could cut her name out in vinyl using the Cricut, and frame it using a frame I already had and some cute cardstock I had picked up on the Target dollar aisle a while back. I scrounged around and found enough girly ribbon that would compliment the cardstock. Since the frame was a stained wood, I primed and painted it white and put it all together. This is what I came up with: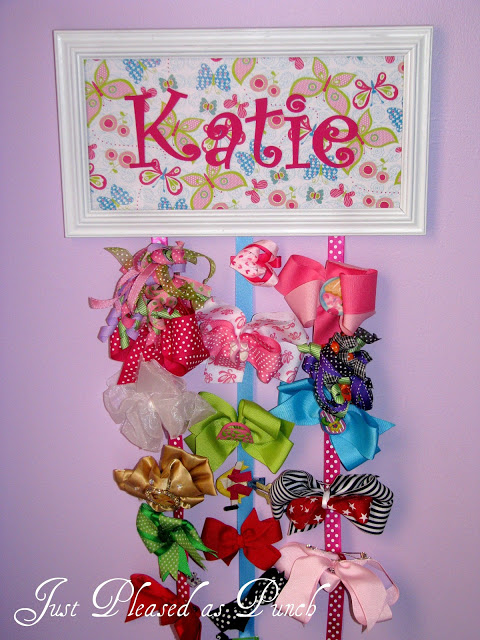 I used hot pink outdoor vinyl, because it was shiny. I placed it on the outside of the glass so it would pop against the cardstock. To attach the ribbon, simply staple it to the back of the frame using a staple gun.
While I was at it, I added some white vinyl to a little bin I picked up at the dollar store to hold all her scrunchies and hairbands.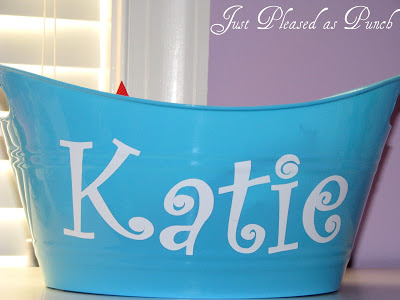 I hope everyone's having a great week. I 'm linking up to these great parties: