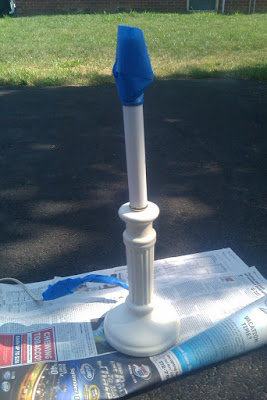 I have spent the last week or so rearranging my kids' rooms. Believe me, this is no easy task with them hangin' around! They just don't seem to want to get rid of anything! Once I moved things around (and managed to sneak a few things out the door), I decided I wanted to redo a few things. Nothing thrills me more than taking a can of spray paint and making something ugly look good! I picked up this lamp on one of my Goodwill trips. It's really not bad at all to begin with, but I wanted a lamp for my son's room, so after flipping through the latest Pottery Barn Kids' Catalog, I really wanted to paint it a similar blue to their painted blue furniture.
The lamp was actually broken at the top, so I bought a light kit like this one at Walmart for like 2 bucks.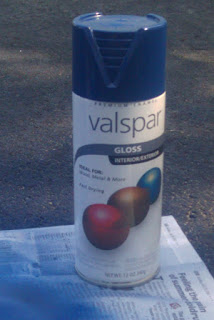 And a can of spray paint…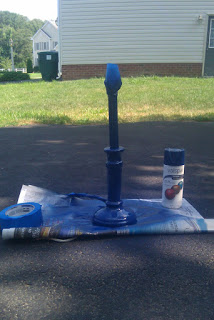 And went to work! Like how I very carefully put enough newspaper under it so I didn't get paint on the driveway? You know you're jealous of my blue driveway. (My husband hasn't noticed it yet!)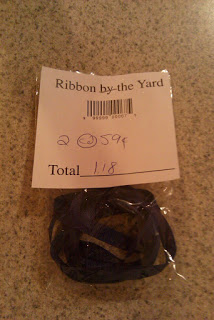 This is some 5/8 inch navy grosgrain ribbon which I thought would look good on the shade.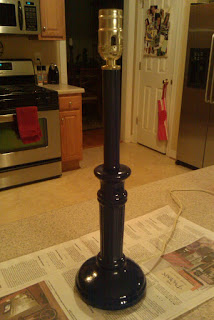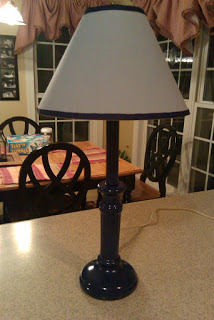 A little hot glue for the ribbon…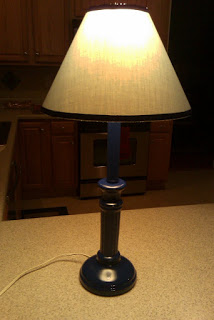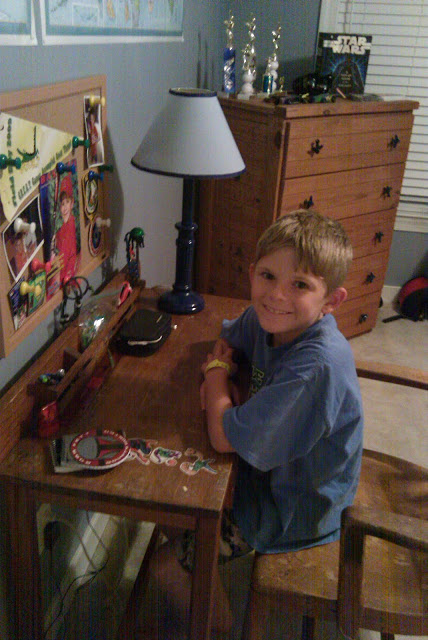 I love the way it turned out. I'm still thinking about doing something else to the shade, something Star Wars-ish to go with his room. Now for painting that desk and chair to match!
Total cost of this project: $9.00 Not too bad 🙂