Hi everyone! I hope you all had a lovely holiday season! This year, I did a lot of online ordering of gifts, and I have to say I am in looooove with
Amazon
! I did the trial of Amazon Prime, and I liked it so much I went ahead and joined for the year. Talk about making your holiday shopping a whole lot easier! Great prices, free shipping, and the items are on my porch in like two days! It's fabulous, I tell you!
I get so excited about all the gifts I find for everyone else, that when my husband asks me what I want, I usually come up blank. This year, I made a wish list on Amazon, emailed it to him, and guess what? He got everything on it! He's awesome like that!
Anyway, today I thought I'd share some of my new toys with you. I am super excited about all my new craft goodies!
If you haven't seen or used one of these, you are totally missing out! The
ATG gun
is a craft room essential and I am so thrilled to finally have one! Not to mention, it's pink!
Next up is the
Tweezer Bee
. No, these aren't for plucking! They are for picking up all those tiny little pieces of paper you cut with your Cricut that are impossible to place exactly where you want them with your fingertips. I can't tell you how many tiny little eyes, noses, and other little embellishments I've lost or dropped trying to place them in their proper places during a project. No more little pieces sticking to my fingers!
How cute is my new
Sizzix Texture Boutique
? This adorable little gal can make all sorts of beautiful textured paper out of your ordinary paper! And, of course she's all dolled up looking like a cute little purse!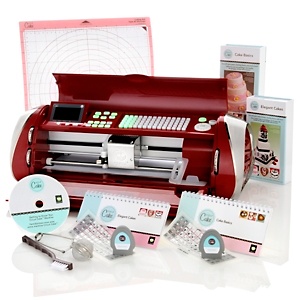 And last, but certainly not least is my early Christmas present to myself! I finally broke down and got a
Cricut Cake
! I can't tell you how excited I am to try this guy out! In case you still think they cost a fortune, you are wrong. They have totally come down in price since they were first introduced, and I got this one for a steal off of
Ebay
.
I just love all my new crafty goodies! My New Year's Resolution is to start making craft video tutorials (finally) on my blog. I can't wait to share some projects with all of you!
What did you get for Christmas?